One Year Gone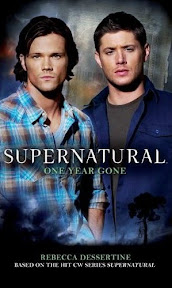 Dean believes that Sam is in Hell so he is trying to keep his promise to his brother and live a normal live with Lisa and Ben.
When he realizes that a spell in the Necronomicon could raise Lucifer and therefore Sam, he convinces his new family to travel with him on vacation to Salem.
Meanwhile Sam is not as far away as Dean thinks and is determined to protect his brother from the Salem witches...
Available 10th May on
amazon.com
and 27th May on
amazon.co.uk
--------------------------------
Cayote's Kiss
A truck full of illegal Mexican immigrants slaughtered with supernatural force is found by the side of a road. Trying to find answers, Sam and Dean are plunged into the dangerous world that exists along the Mexican border.
They encounter a tattooed, pistol-packing bandita on a motorcycle who seems be everywhere they go before they get there. Xochi Cazadora draws them into a whole new world of monsters...
Available 12th July on
amazon.com
and
amazon.co.uk